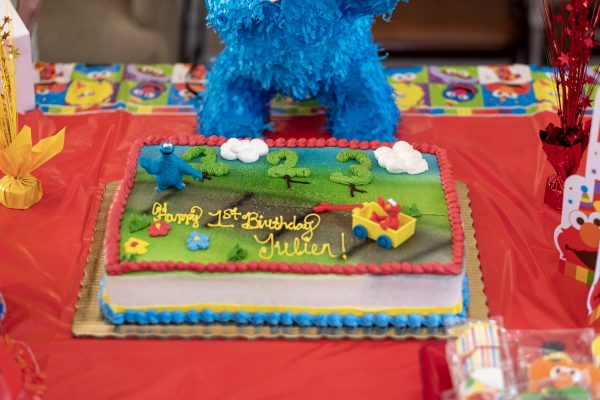 Hi Friends!
I did it! I made it though my first year of baby-hood and I am OFFICIALLY a TODDLER now!!!! Can you believe it has already been a whole year? If you ask mommy and daddy, they will say that the 1st half went by very slowly….because of all the medical scares. The 2nd half seems to have FLOWN by and I can't believe all of the amazing new things I can do! Mommy and Daddy threw me something called a "birthday party" at their house. Naturally I fell asleep shortly before guests started arriving but I woke up and mingled with everyone and had a great time. Mommy even invited other kids and BABIES to come so we all played together in my playpen! I am new to this whole "sharing my toys" thing but I think I handled the whole situation pretty well. All the babies that came were boys and there were some girls too but they were a little older. I can't say that I minded……they were pretty cute! The part that confused me the most was the birthday song part. We all gathered in a room and all these people stood in front of me and stared at me while I ate my cake. I'm pretty sure that my confusion was captured beautifully on someone's iPhone video……:) My godmothers, Juliette and Karen bought me a super special birthday cake….it was peanut-free, egg-free and gluten-free (sounds amazing, huh?). It was SO yummy and my favorite part was raking off the icing and eating that and putting it all over my face (Mommy said that I ate my cake like a cat!). I finally got to the actual "cake" part and boy was it yummy!! This was ALL for me???? After a few minutes of me combing the icing off with my hands and shoving too much cake into my mouth at once (which is pretty much how I eat in general), mommy and daddy cleaned me up to rejoin the party. A special toddler shout-out goes to grandma and grandpa Mastrovito for helping to get the house decorated and ready for the party….plus watching me extra the week before so that mommy and daddy could tend to last minute details:) Another special shout out goes to my godmothers: Juliette Mansour and Karen Stack for both custom cakes: 1 special one for me and the other one for all the guests. Juliette also put this adorable Evite together with the Sesame Street theme and helped us get the house ready for all the guests as well. Another special shout out goes to Tess Hamilton's daughter "Claire" for being such a great helper by opening the front door and greeting our guests for the party!!! This was a task that she wanted to do and she was the cutest greeter EVER!! We have included a few pictures here and we will post more as more are sent to us:)  Birthday party # 2 will be in DC with Daddy's family soon…..yay for birthdays all month long!!!
Here are some other highlights of my recent milestones since we last chatted:
1. I pulled up to stand about 3 months ago but I have been standing and holding onto things with 1 hand and swaying side to side. I'm just trying to work on keeping my feet totally flat since I still have some residual tightness and "tone" in my toes leftover from my birth injury. The more I practice, the better and more confident I become with this whole standing thing! As a matter of fact, this past week I started trying to stand "unassisted" and I stood for a whole 4 seconds!!!! 
2. I have now become PROFICIENT at emptying out the Tupperware cabinet….mommy keeps trying to show me how to put things "back." Now what fun is THAT????
3. I have been working on talking and I'm chatting up a STORM!!! My favorite words so far are mama, dada, dog and my all-time personal favorite phrase so far: ALL DONE. 
4. My dancing skills have also improved and every time I hear music, I start jamming out. I even like to sit up on my butt and scoot around in a circle while dancing….now THAT's coordination 🙂
5. I have also sprouted 4 tooth so far and 2 more on the top are getting ready to pop through!